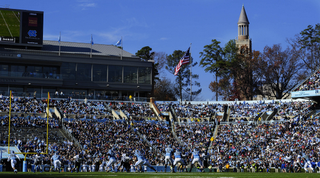 On Wednesday, CNN published a report about the literacy levels amongst college athletes from 37 public universities across America. Part of the data came from Mary Willingham, an academic counselor at the University of North Carolina Chapel Hill, who has worked with student athletes since 2003.
The results? Not great. More than half of student-athletes admitted to UNC between 2004 and 2012 had a reading comprehension level between fourth and eighth grade, and an additional 8-10% read below a third grade level (keep in mind that UNC is one of the best universities in the nation, with a 27.6% acceptance rate).
Since the report has been published, Willingham has received death threats, messages containing hate speech, and — perhaps most disturbingly — no support from the University, which says they're "not aware" of Willingham's research (not true). Go Tarheels!
[H/T HyperVocal, image via Go Heels]